FutureShift is a data-driven strategic and brand planning company, which uses its proprietary software to develop databases and customer feedback that enables direct communication to any user defined segment.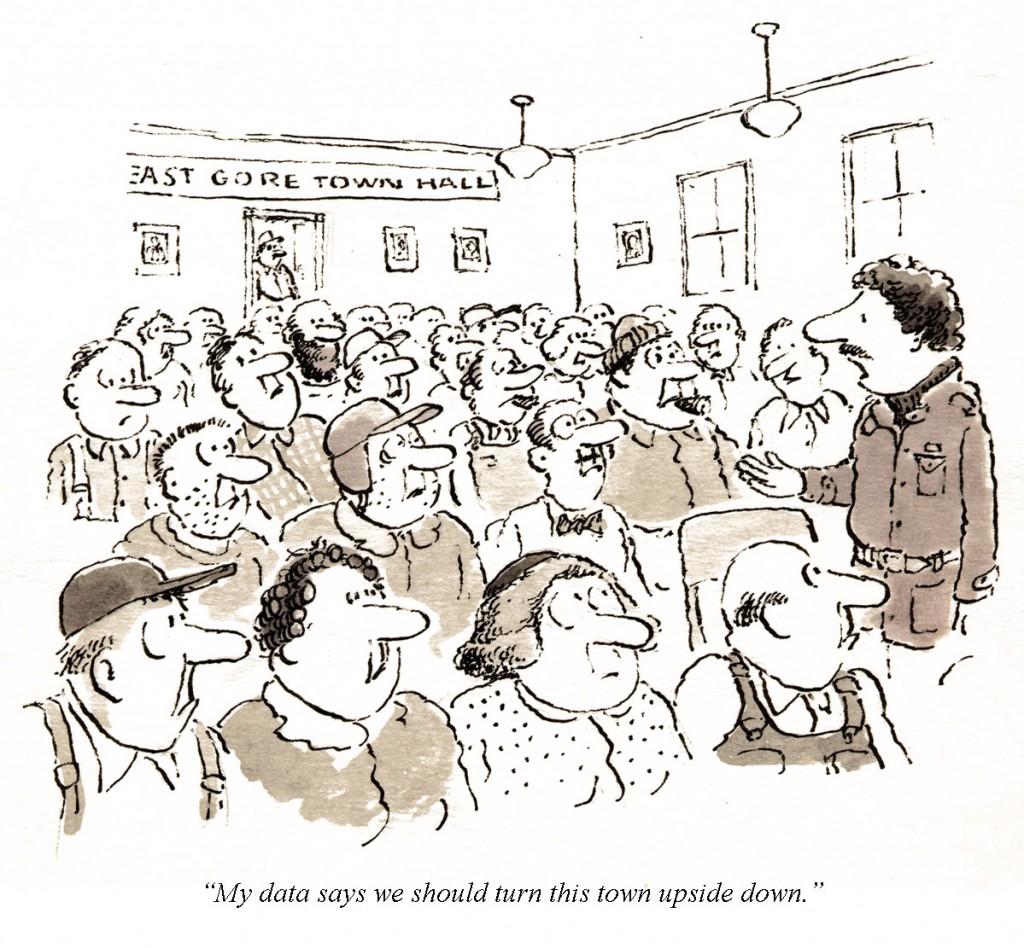 If you're like most people in business today, you're probably talking about "Big Data" and what it can do for you.  One can hardly scan the business section of any newspaper or magazine without reading about it.
On April 15th NY Times, columnist David Brooks wrote an excellent article about the limits of Big Data.  It's titled, "What You'll Do Next". It was of interest to me because we offer large-scale, qualitative customer intelligence to our clients with the ability to instantaneously email people who share a distinct set of differences.
Let me explain because it's really quite simple.
The purpose of research or recording data (quantitative or qualitative) is not to tell you what people have in common but what drives them apart.  If in your marketing, you find the common denominator between all your customers and then deliver them a message that addresses that commonality, you're actually speaking to no one.  You haven't addressed any particular interest that anybody has that might indicate that you understand their specific needs.
This is why we use (or build) your database to tell you how your customers are different from each other and how they want that difference to be addressed.  As Brooks points out, "People are discontinuous…the passing of time can produce gigantic and unpredictable changes in taste and behavior, changes that are poorly anticipated by looking at patterns of data on what just happened." Nothing could be truer in marketing today.
One of the problems with Big Data is that it is essentially a rear-view mirror. It looks for past patterns of preferences based on purchases or contacts and assumes their patterns will tell you how they will act in the future.  Brooks quotes the Viktor Mayer-Schönberger and Kenneth Cukier book, "Big Data," noting "this movement asks us to move from causation to correlation." But he writes, "Correlations are actually not all that clear.  A zillion things can correlate with each other depending on how you structure the data and what you compare."
We've all probably experienced this when buying products ranging from books to vacuum cleaners from Amazon.  You've surely seen, their notations that people who bought these books, also bought these.  What they're doing is simply taking your history of book buying, comparing it to others with similar lists and laying what those people bought next onto your page.  In other words, past history from people like you equals future purchase probability and with enough purchase data, there may be some accuracy in that prediction.  However, Amazon can't know that last week I had no interest in buying books about terrorism and this week, sadly due to the events in Boston, I do.  Until I make my purchase, but then all kinds of things can intercede with my buying decision.  There are just too many potential disruptions to patterns of purchases to be good predictor of future behavior.
We've created a forward-looking mirror called DirectLink™ We ask your customers "what if" and "why" questions.  We capture their words and then quantify their ideas, perceptions and motivations.  Then, we give you the ability to instantly segment them and download the email addresses of any segment you select.
With DirectLink™, you can immediately see what differentiates your customers, the words they use to describe their differences and their emails so you can you respond specifically to their unmet needs.  Most purchases are motivated by either frustrations or the need to fulfill unmet needs.  Big Data doesn't engage customers to determine their frustrations or needs.  DirectLink™ does. In doing so, you are directly engaging your customers to increase loyalty and ultimately, sales.
Learn how Futureshift would approach your marketing challenge or arrange for an online demo of DirectLink™  by calling 212-444-7192/7193 or email strategy@futureshiftnow.com
Tags: Amazon, Big Data, Change, Communities, Customer Intelligence, Database, David Brooks, DirectLink™, Governments, Kenneth Cukier, Marketing, Outcomes, Predictive Analytics, Strategy, Viktor Mayer-Schönberger