Everybody knows Christmas can be a challenging time.  Gifts, parties, family, travel, decorations, cards all can present vexing problems to solve every year.  For me, an appropriate card is probably the toughest thing I face.  Every year, my friend George and I develop a cartoon to use as our card and it's not easy.
You see on the side, we're cartoonists or I should say a cartoon team.  George draws and I write except when he draws and write or I change his drawings with photoshop and write or he draws and his wife writes or my wife and kids make suggestions.  But however it's done, we come up with a collaborative effort every year that goes on our website GigundoIndustries.com
No doubt you've heard of Gigundo Industries, the largest, non-existent, virtual company in the world.  If not, you better visit the website as soon as possible for there are hundreds of cartoons there for you to peruse and even buy.
In a way, creating cartoons is similar to writing strategy.  You take a complex set of facts and distill them down into something simple that cuts through the clutter.  Only with cartoons, you place that simple statement in an unusual setting such as a psychiatrist's office, caveman times, a prison, the North Pole or Santa's workshop.
There was so much news this year that was fodder for our a year-end card.  Off course, most prominent and recent in our minds was the malfunctioning of healthcare.gov and that led to an idea that really didn't require any drawing at all.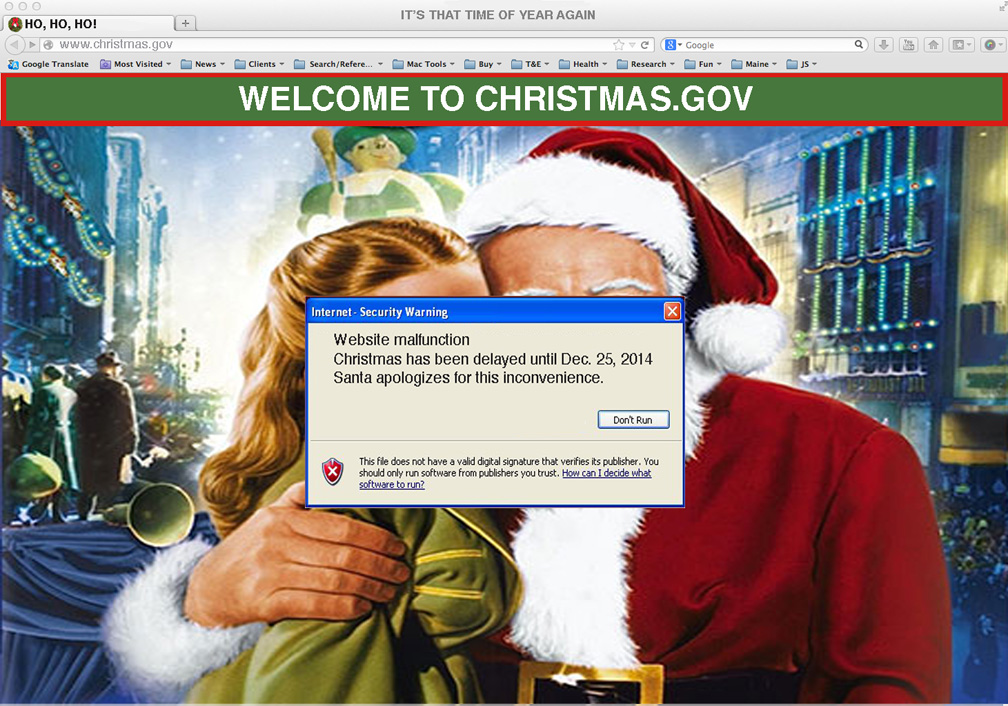 But we quickly nixed that idea because who could possibly make jokes about their government failing at something, let alone Santa?  I mean nobody wants the government to fail. Right? Yeah, right.
So then we moved on to the saga and embarrassment of Edward Snowden and the NSA snooping and came up with this: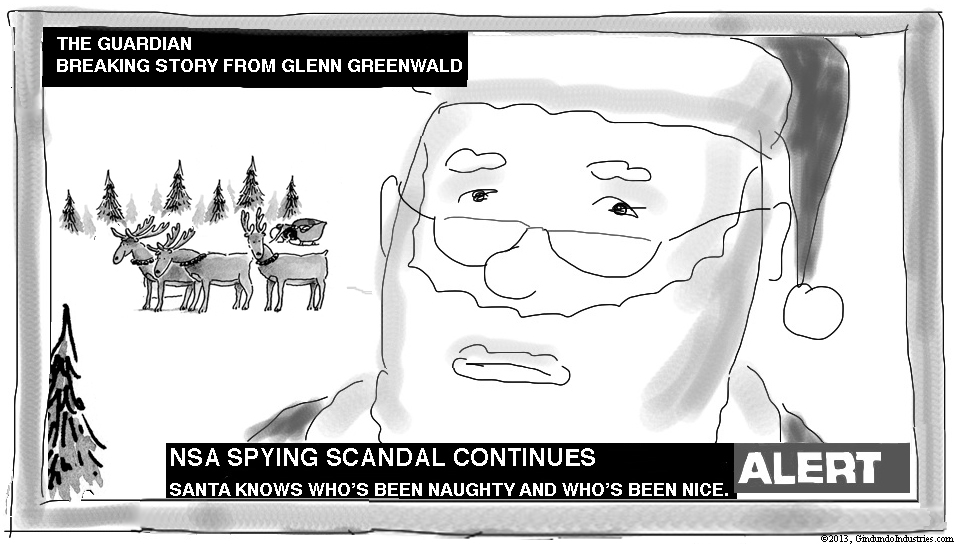 But not exactly an uplifting story and we were looking for something more upbeat.  So we moved on to a couple of positive stories.  First, the extraordinary first-ever resignation of a Pope got us wondering if that could ever happen to Santa.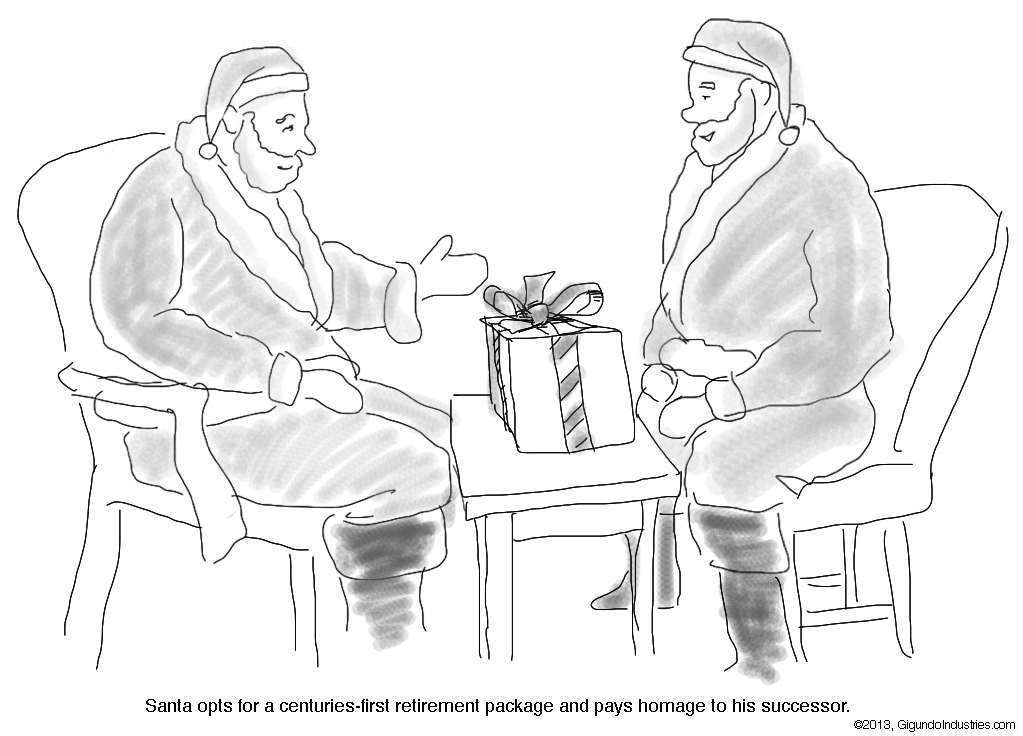 Then came the idea that the battle for gay marriage might even have reached the North Pole.  (No, this is not for you people at Fox News who think gay marriage may as well allow us to marry a goat.  Who'd marry a goat anyway?)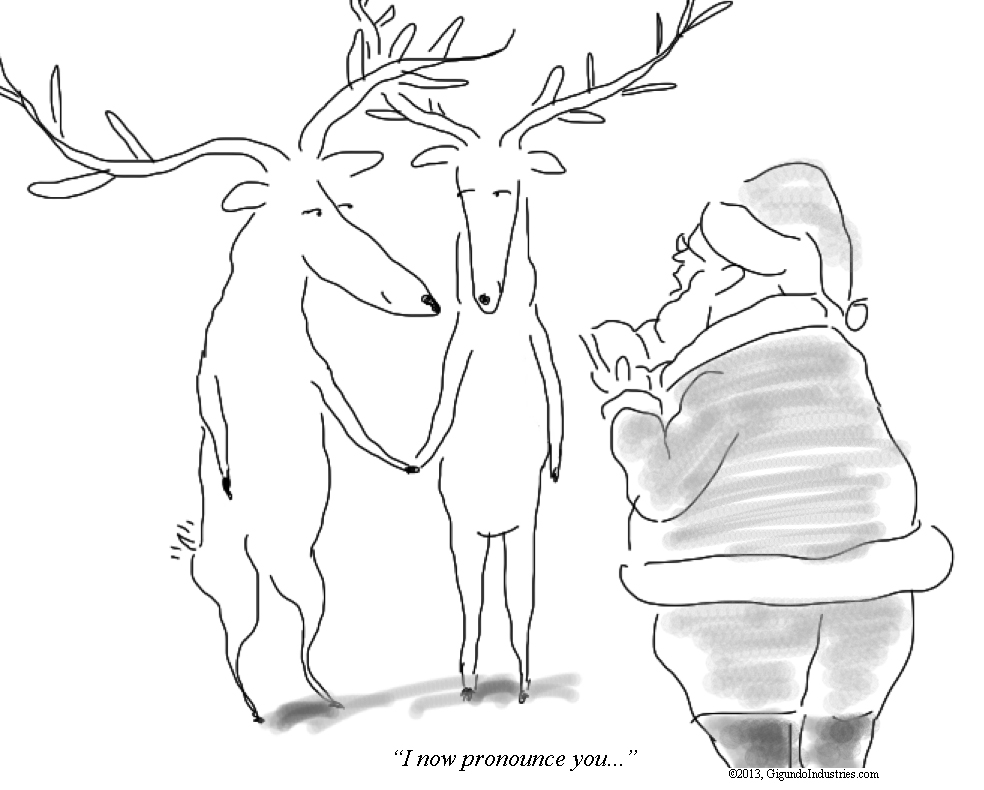 We just weren't satisfied yet and then read the news that "Selfie" was the word of the year and would enter the Mirriam-Webster Dictionary.  Santa can get in on that too.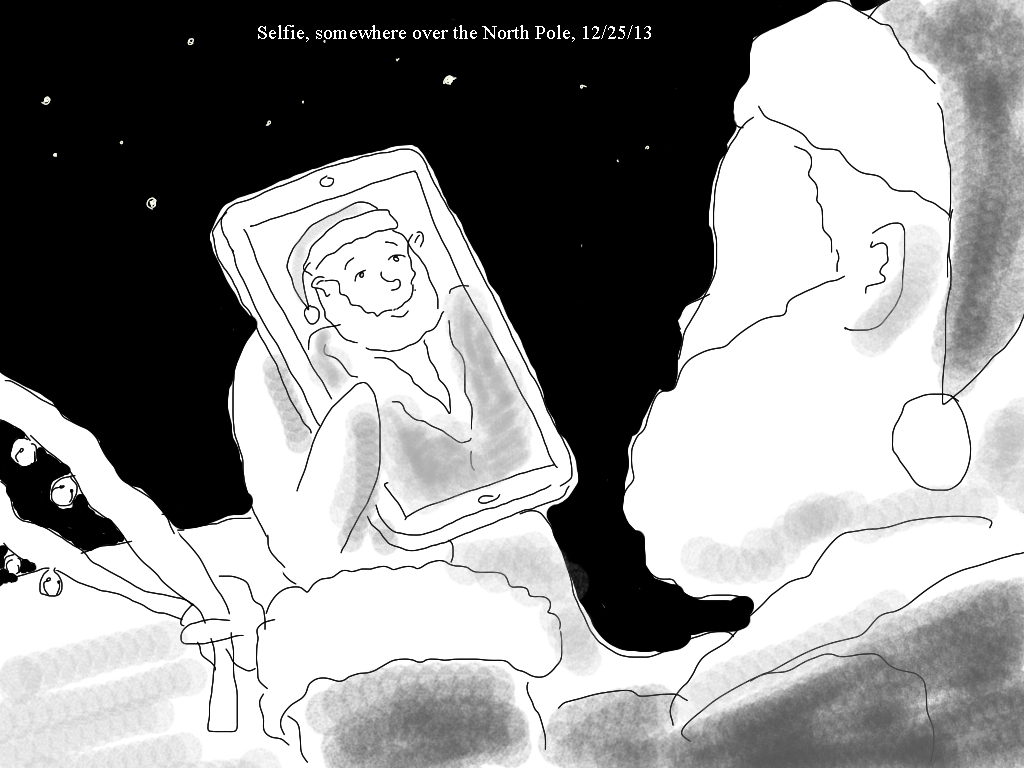 Finally, we hit upon it, an idea that would really take us into the future but have that bit of mixed message that might cause us to wonder whether things are as they should be.  2013 also became the year of the drone, for both reasons that frighten us and, thanks to Amazon.com, frighten us.  Just think if Santa employed some new technology.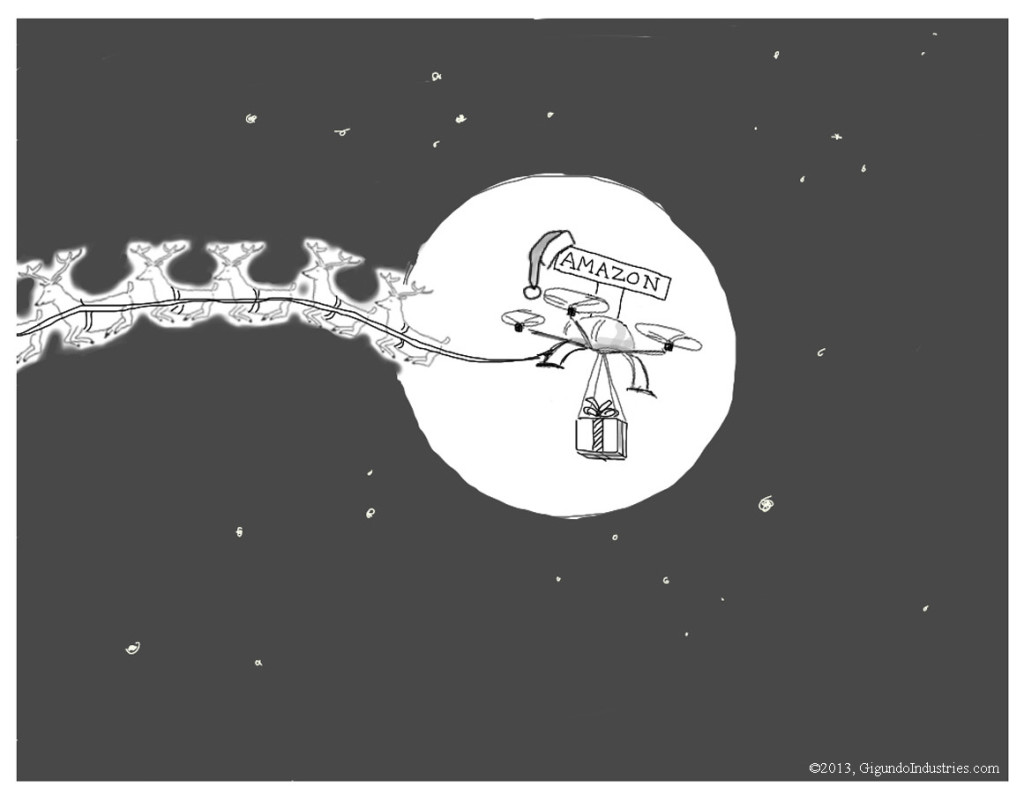 That's our holiday collection for 2013.  They'll all go up on our site at GigundoIndustries.com soon.  Let me know which you like best.  Now, it's back to my day job.  Everyone at Futureshift and GigundoIndustries.com wishes you the best of Christmas holidays and a great 2014.
Tags: 2014, Amazon, Assumptions, Christmas, Corporate Myopia, Creativity, Democrats, Drone, Edward Snowden, first Selfie, Fox News, futureshift, gay marriage, GigundoIndustries.com, government failure, Governments, Healthcare.gov, Media, new Pope, New Year, NSA, old Pope, Outcomes, Pope, Santa, Selfie, Situation Analysis, snooping, Strategy, The Guardian, Virtual Company